On Easter Friday, members and supporters of Coromandel Watchdog protested at further mining proposals at Hikuai, south of Tairua on the Coromandel Peninsula. Multi-national Oceana Gold has an exploration permit across Hikuai and an adjacent one in Kauaeranga valley.

Drilling sites north of the Kopu-Hikuai State Highway have been consented on private land next to Conservation land partially protected by Schedule 4 of the Crown Minerals Act – these provisions don't prevent underground mining of protected land which can include airshafts and associated equipment on conservation land. Any mining would also involve extensive dewatering in the area not to mention any blasting impacts.

Watchdog supporters received supporting toots from passing Easter traffic heading the east coast of the Peninsula.

Further south, inland from Whangamata, OceanaGold's is looking at building a 6.8km tunnel underneath conservation land at Wharekirauponga. The area is the stronghold for the endangered Archey's frogs.  The tunnel would involve construction of at least five ventilation shafts on conservation land and blasting and drilling underneath it, and dewatering of the groundwater. Watchdog supporters, ECO and others have made clear their opposition to this proposal.

Only a small part of the conservation land in the area inland of Whangamata is covered by 4th Schedule provisions despite Labour Party and Government policy to protect this land.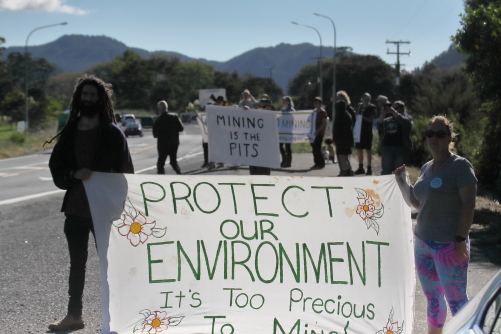 Protesters at Hikuai. Photo: Barry Weeber
See Double Disappointment for Coromandel Conservationists and Mining By Stealth in Coromandel Forest Park