ECO's intern and HECUA student Emily Donaldson continues her series looking at ecological restoration projects happening around New Zealand, based upon the survey work ECO undertook last winter.
In this article Emily reviews the sterling work being done by Bushy Park at Whanganui.
Bushy Park: Part Bush, Part Park, Part Homestead
I will admit upfront my (positive) bias towards Bushy Park Sanctuary in Whanganui. I will also add that a panel from Ecological Management & Restoration (a journal of the Ecological Society of Australia) and the Society for Ecological Restoration International deemed Bushy Park as one of the top twenty-five ecological restoration projects in Australia and New Zealand in 2009.
Our HECUA study abroad programme visited the one hundred predator-free fenced hectares this September, tramping its trails, counting kereru, checking traps, and exploring the fence line. In addition to Sanctuary Mountain Maungatautari and Zealandia, this ecological sanctuary has left an indelible mark on me.
Bestowed to Forest & Bird in 1962, Bushy Park is cared for by Bushy Park Trust, enhancing native avian and endangered species populations and providing environmental education opportunities, trails for recreation, and a Homestead for entertainment and accommodations. The Edwardian-era homestead, a Category One Heritage Building registered with the New Zealand Historic Places Trust, harbors twenty-two rooms and a treasure trove of Maori and other historical and cultural artifacts.
Reflecting its cultural richness and diversity, Bushy Park's species richness and biodiversity includes bellbirds, kereru, north island robin, saddlebacks, hihi, moreporks, fantail, grey warbler, pukeko, silvereye, kingfishers, white-faced heron, and some kiwi. Giraffe weevils, glowworms, and huhu beetles also inhabit Bushy Park, residing in the diverse native bush and wetland. Stoats, ferrets, weasels, possums, feral cats, hedgehogs and rats once threatened many of these endemic species, but recently mice and rats are the main mammalian species left.
Although we only checked a few tracks, 12,000 volunteer-hours were contributed to Bushy Park in 2014, according to ECO's environmental group survey. Running on a pricey budget of $60,000, Bushy Park appreciates all visitors, volunteers or otherwise.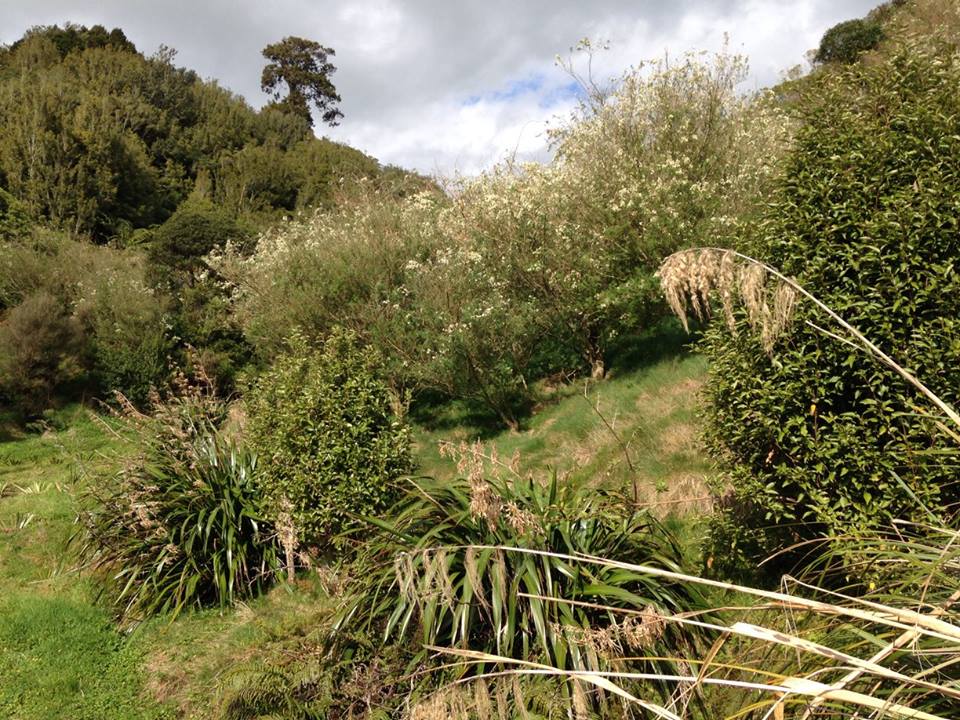 Habitat and bird protection, monitoring for predators, upgrading of tracks & signage, and maintenance accounts for much of the workload within the fence. With ongoing work and a long-term vision, I would love to return to Busy Park to offer a helping hand and see its progress. Its value, cultural, historical, and ecological, is irreplaceable.
Please, spend some time exploring Bushy Park online:
http://www.bushyparksanctuary.org.nz/